Document Destruction Queensland
DestroyR provides secure document and paper shredding services throughout Queensland and NSW. Whether you're in Brisbane, the Gold Coast, the Sunshine Coast or Northern QLD, we're ready to help protect your identity and securely destroy your most important information.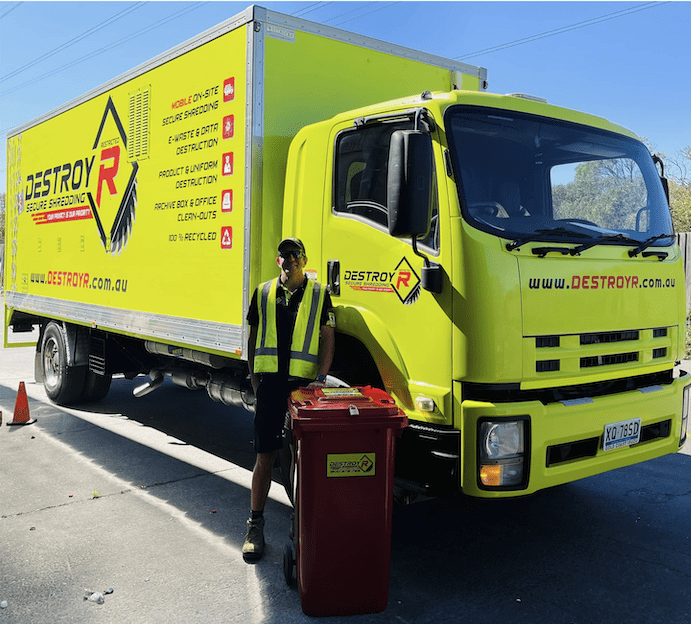 Secure Document Destruction QLD
We are a Queensland owned document destruction company that began when the founder experienced first hand the lack of security and accountability within the industry. We were tired of seeing our clients' data being mishandled by third party companies who put their profits ahead of our clients' security. We believe everyone deserves to have complete peace of mind about their documents and information – both now and into the future. That's why we've built DestroyR from the ground up with a strong focus on taking care of our customers. From start to finish, you can rely on DestroyR to be there for your every shredding solution!
Our trained staff will collect your materials from anywhere on your property and destroy them on site in our locked trucks. Your documents are shredded into tiny pieces so there's no chance of identity theft or data breach. When you choose DestroyR you'll get peace-of-mind knowing that your sensitive information is protected by the highest security standards available in the industry today. We're committed to protecting your privacy and meeting all government regulations for secure disposal of confidential records. You can count on us to ensure that your documents are disposed of properly—the way they should be!
Archive Box Destruction Queensland
You would never leave your garbage outside on the street for someone to pick through. Why would you leave sensitive information sitting in an open box? Old boxes lying around your office or home can be a security risk, especially if they contain old documents and files which contain personal information or other sensitive content. DestroyR offers inexpensive and easy-to-use secure shredding services for businesses and individuals alike. We will come to you, pick up your documents from anywhere, securely shred them and then we'll even take them away! All of the shredded material is then recycled into new paper product, helping the environment with our closed-loop process.
Onsite Document Shredding Queensland
Paper documents are the most common form of lost or stolen data. Protect your personal and business information from identity theft by having all your documents shredded onsite. Be sure that all copies of your paperwork are destroyed in a safe and secure manner. DestroyR is an industry leader in onsite document shredding services, offering document destruction services to businesses of all sizes. We know our job is important to you, so we work hard to make it easy for you. You can count on us to protect your sensitive information from identity theft by providing secure, efficient, and professional document destruction services.
Paper Recycling Queensland
Most people have a ton of paper lying around. Sorting and recycling all that paper is time consuming and can be messy. You know how important it is to recycle and reduce the amount of waste you create, but with so much paperwork, where do you start? Paper Recycling just got easy! DestroyR Secure Shredding offers on-site recycling services for all your paper needs. We will come to your location and take care of everything from filing cabinets full of paperwork to printer cartridges and old magazines. Our trucks are equipped with state-of-the-art shredders that will destroy all of your sensitive data.
E-Waste Destruction Queensland
When you purchase a new computer, mobile phone, or other consumer electronics products – what do you do with the old ones? Most people put them in the closet or a box in the garage, but this is one of the worst things that you can do. Your old electronics contain sensitive data that could be compromised if they fall into the wrong hands. To prevent identity theft and fraud, your old devices need to be destroyed and disposed of properly. DestroyR's secure shredding services are perfect for those looking to dispose of their e-waste properly. We make sure that your device is completely destroyed, so they cannot be reused or sold on the black market.
How Does Your Privacy Remain Protected?
The Australia Privacy Act is a legislation that governs the way companies handle and protect their customer's personal information. It is one of the strictest privacy acts in the world which makes complying with the act a challenge for any Australian business. It is essential for all businesses to meet these compliance standards, DestroyR Secure Shredding has developed an innovative solution to this problem. Our low-cost, high-quality shredding services will ensure your company complies with all aspects of this act, protecting your clients from identity theft and fraud while also reducing your company's liability under this legislation.
The complete solution is recycling E-Waste. With DestroyR, we offer a full data disposal and destruction service. Rather than storing computers and electrical equipment in warehousing facilities, we morally and responsibly recycle the properties handed over to us.