DestroyR's Secure Containers provide a trusted solution for the secure storage of your confidential documents and information. Our range of specially designed containers ensures that sensitive data remains protected until it's ready for secure destruction. Discover the peace of mind that comes with our secure container options, tailored to your organisation's requirements.
Executive Console
Our Executive Console option blends in seamlessly with other office furniture, providing a discreet and convenient solution for document disposal. Sensitive documents are fed through the slot on the front and securely stored in the included bag.
Dimensions: 
550mm wide, 400mm deep, 840mm tall
Weight: 21kg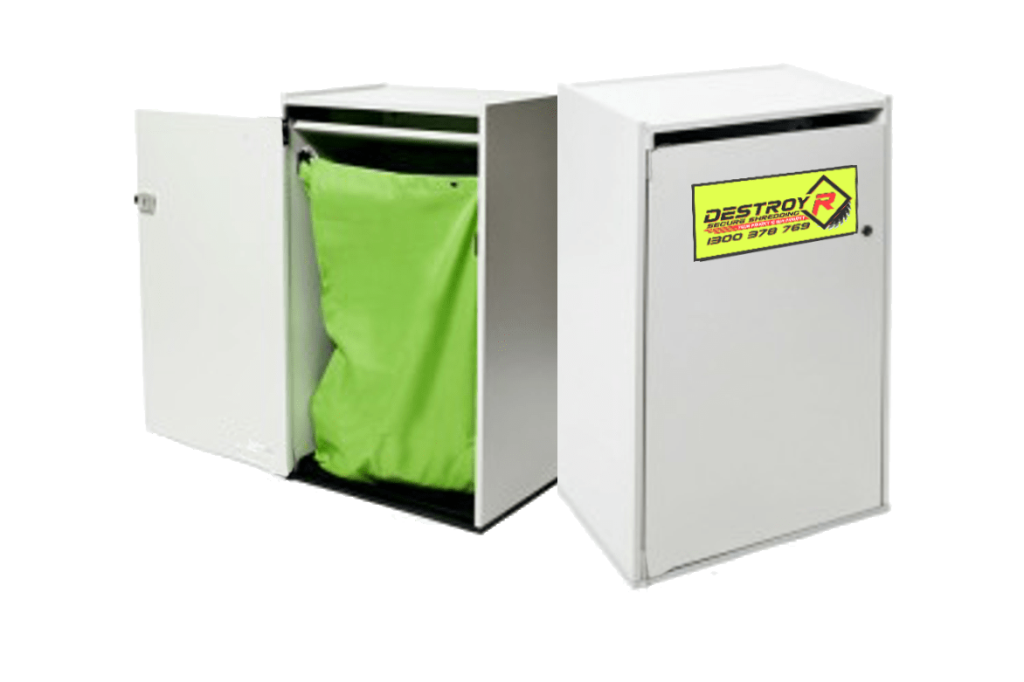 120 Litre Bin
The 120L container is designed for larger document volumes and offers a secure storage solution. It is equipped with DestroyR Padlocks and can only be opened by authorised DestroyR personnel during the secure destruction process.
Dimensions:

480mm wide, 480mm deep, 930mm tall.
Weight: 8.2kg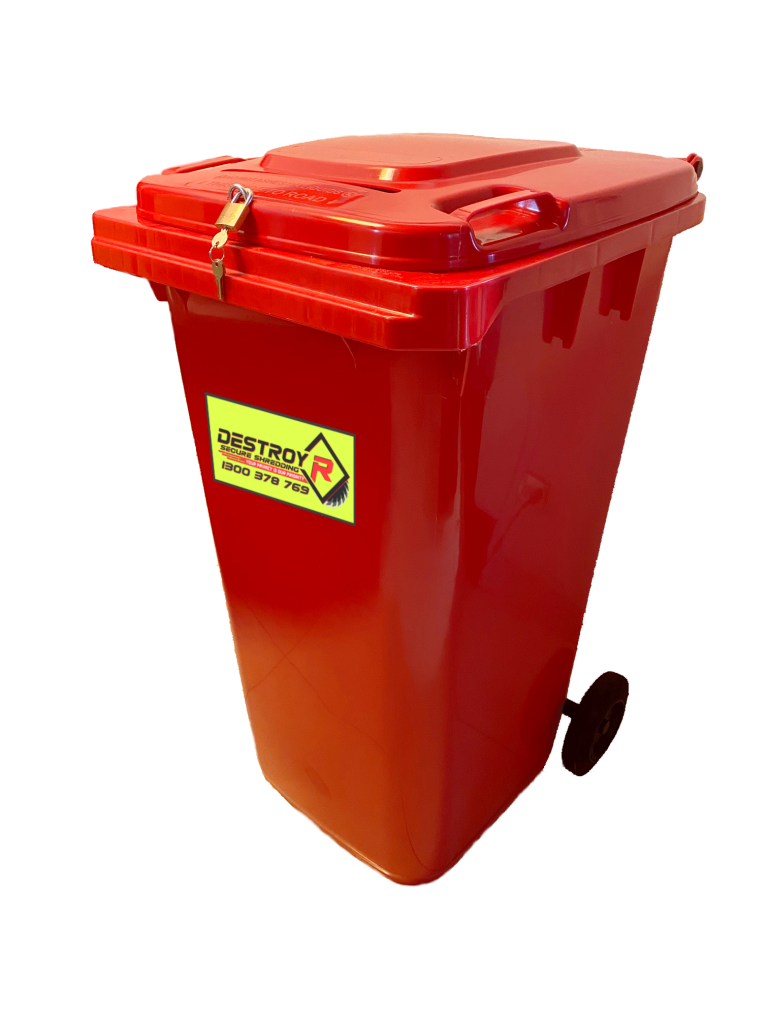 240 Litre Bin
The 240L container provides an even larger capacity for secure document disposal. It is the same size as a council residential bin, making it easily recognisable to staff members. The container is equipped with DestroyR Padlocks for added security.
Dimensions:
585mm wide, 660mm deep, 1060mm tall
Weight: 15.5kg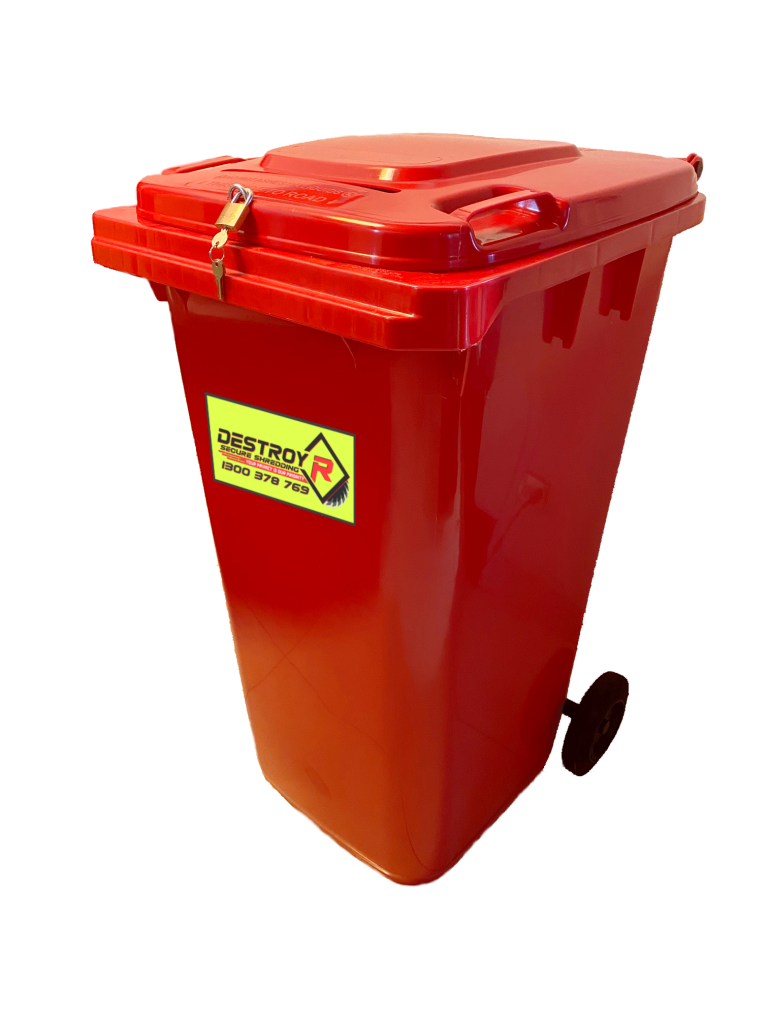 660 Litre Bin
For businesses with high-volume secure disposal needs, our 660L bin is the ideal choice. It offers the largest capacity in our container range and is perfect for securely disposing of large amounts of E-Waste, X-Rays, and more.
Dimensions:
340mm wide, 860mm deep, 1135mm tall.
Weight: 50kg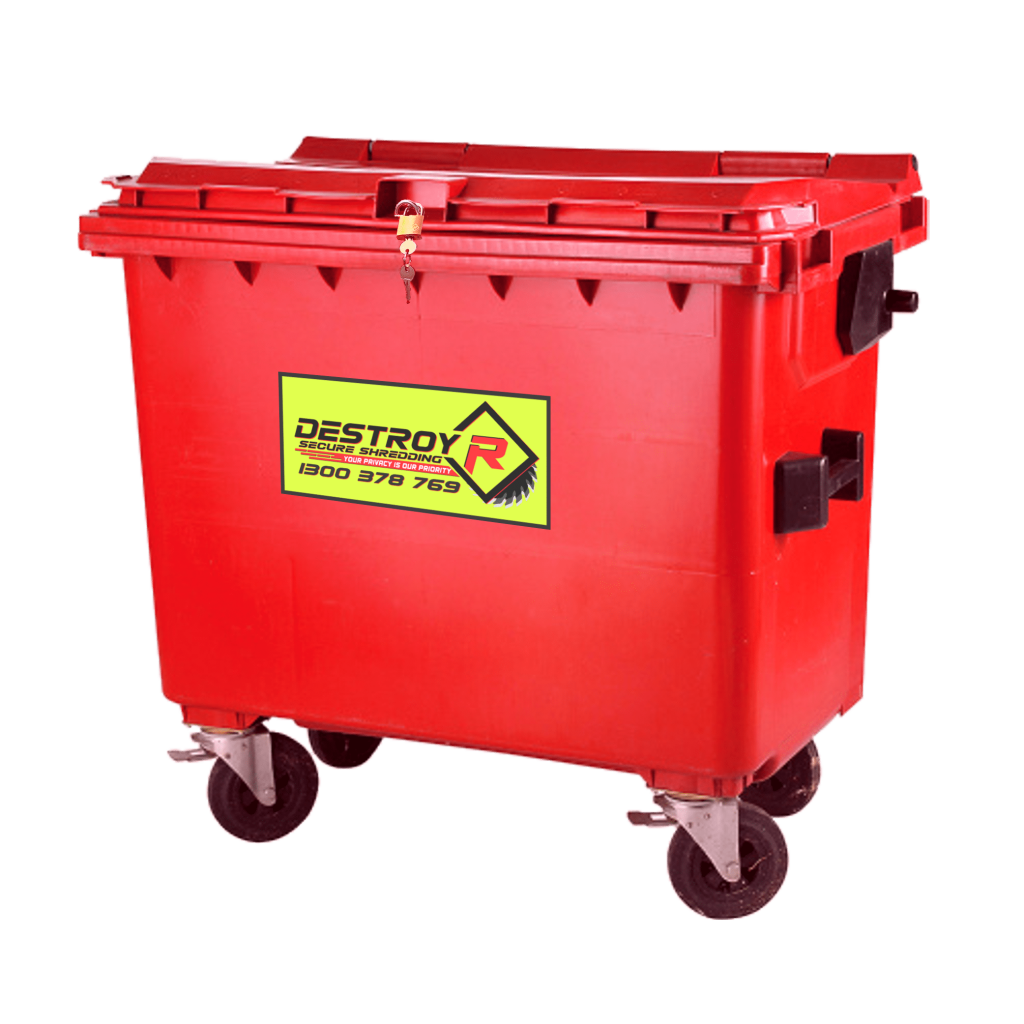 Why Choose DestroyR's Secure Containers
At DestroyR, we understand the critical role that secure containers play in safeguarding sensitive information. Our commitment to data security extends beyond just shredding; it begins with proper containment. Here's why choosing DestroyR's Secure Containers is the smart choice for your organisation:
Ultimate Security: Our containers are designed with top-notch security features, including tamper-evident locks and rugged construction, ensuring the utmost protection for your confidential data.
Convenience: Our containers are available in various sizes to accommodate your unique storage needs. From compact desk-side options to larger bins for high-volume environments, we have a solution to fit your requirements.
Compliance: With increasing regulatory requirements surrounding data privacy, our containers are compliant with industry standards, helping you maintain legal compliance and avoid potential liabilities.
Peace of Mind: Rest easy knowing that your sensitive documents and data are safe from unauthorised access or accidental exposure, even before they reach our secure shredding facilities.
Customisable: We offer flexible rental options, so you can choose the container size and service frequency that aligns perfectly with your business operations.
Professional Support: Our dedicated team is here to assist you every step of the way, from selecting the right container to ensuring timely pickups and secure destruction.
Environmental Responsibility: In line with our commitment to sustainability, our containers are designed for durability and long-term use, reducing waste and environmental impact.
When you choose DestroyR's Secure Containers, you're not just investing in secure storage – you're investing in the protection of your organisation's reputation, compliance with data privacy regulations, and the peace of mind that comes with knowing your sensitive information is in safe hands.
Discover the complete range of our secure container options and how they can enhance your data security strategy. Contact us today to discuss your requirements and find the perfect solution for your organisation.