Off-Site Document Shredding
Paper Shredding can seemingly be a simple task, yet could be cumbersome for a business to carry out and manage. DestroyR is a trusted solution for secure document shredding services, that is reliable and secure for confidential business records and documents. Conforming to Privacy and Data breach regulations, DestroyR secure document destruction services make document shredding easy and ensure a secure process to dispose of sensitive information.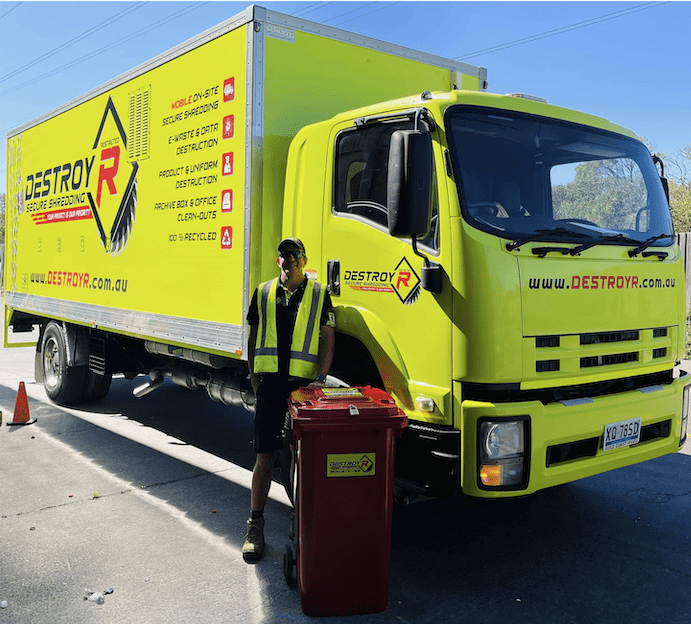 What does secure shredding involve?
While many offices take on the task of shredding paper themselves, there's always a risk for potential lapses. Often shredding is either carried out by each individual or assigned to interns and other office members as a task. For larger businesses or those dealing with bulk data, the need for shredding is frequent and more complex to handle.
With other primary tasks and office work, businesses often tend to pile up these documents in large numbers, which sometimes end up in bins without any secure disposal. A secure information destruction process can be easily facilitated, with a document destruction service that is reliable, has a vetted process and ticks all the boxes for your business.
This includes different aspects such as the secure storage of sensitive documents, GPS tracked transportation, as well as CCTV monitored shredding to complete the process flawlessly. If any of these steps are compromised, a security lapse or leak of data can occur, and the entire process would be ineffective. DestroyR ensures to provide secure document destruction that allows the company to hand over their sensitive information for disposal with genuine peace of mind.
DestroyR secure paper shredding service stands out owing to our secure destruction and handling methodology. It extends:
A secure closed loop recycling procedure that is responsibly handled from collection to disposal.
Certified Destruction that is CCTV monitored for future reference.
Secure containers, confidential bags, and other necessities to aid the process efficiently.
Secure Paper Shredding at DestroyR
DestroyR is 100% Australian owned and operated, popularly recognised in Brisbane and other parts of Australia for its secure document shredding methods. We customise our paper shredding services to suit your requirements and ensure a guaranteed and trusted procedure for secure document destruction services.
Whether you choose our On-Site shredding service where we bring our shredding vehicle to you, or the use of secure containers with a monitored transportation procedure and supervised shredding at our DestroyR facilities in Brisbane, your business and personal data is destroyed securely and efficiently. Our provision extending to local areas as well as specific regions are well in compliance with the Privacy Act that demands a thorough and reliable sensitive information destruction.
Need to ensure your Australian company shreds sensitive material the right way? DestroyR is your one-stop-destination. With each task handled promptly, from collection to the destruction process, our aim is to provide a hassle-free experience to our clients with our shredding service. Get in touch with our expert team to get started with a professional, methodical, and efficient document disposal process for your organisation in Brisbane.
Permitted Items for Offsite Shredding
For Your Peace Of Mind, Access Secure Document Destruction 
Are you a small business that deals with sensitive information, such as a law firm that has access to clients' personal documents? Perhaps you're a large corporation that needs to keep certain data, such as employee details, confidential. We offer secure document destruction to companies that need to dispose of documents that have been piling up that they no longer need to retain for record-keeping purposes. When we're finished, you can work from an office space that is clear of unnecessary clutter.
In addition to mass shredding, we provide residential shredding services to securely dispose of your outdated documents so that you're not at risk of identity theft.
What Can Your Company Can Do To Secure It's Privacy
Protection of personal information is legally required by the government, and it's in a company's best interest to ensure that confidential customer information remains safe to establish trust and build relationships for repeat business. Here are some of the ways that you can give rightful care to the handling of your client's data:
Document and record management procedures. This documented process includes information about how your company distributes, files (or saves on the company's server), and stores documents, and who will have access to them. It also indicates roles and responsibilities and helps you plan for how your company disposes of obsolete documents.
Staff training. Management will have to train employees on the business's document procedures so that they know how your company processes sensitive information and the expectations when dealing with information from third parties.
Physically protect personal information. Where you need access to customer documents for an extended period, you will have to plan for how to store them and how you'll control access to them. Most companies keep hard and soft copies of documents as backups. To ensure the safety of hard copies, you can store them in a fireproof cabinet under lock and key. Lock down soft copies, saved on the server, so that only authorised persons have access to them.
Prepare for a privacy response plan. As an employer or manager responsible for the protection of personal information, you should prepare for what to do if confidential documents are missing. The first step is to contain the security breach and extend control measures—for example, locking the room where you keep the cabinet, or taking the server offline until the situation is resolved. After you've determined the cause of the breach, you'll need to notify the individuals involved and make the changes necessary to prevent the same incident from happening again in the future.

You should never, ever use a garbage disposal or trash can to dispose of sensitive documents. If you don't need them anymore, why not destroy them? DestroyR can take care of all your secure paper shredding needs. We make sure that your personal information is kept safe and out of the hands of identity thieves. At DestroyR we have a wide range of affordable services to suit every budget and business size. We also offer a mobile shredding service so you can have a secure shredder on site at any time!
What Sets Us Apart As A Document Destruction Service?
We provide secure document shredding to individuals and businesses with documented data that they want to get rid of without running the risk of data falling into the hands of a third party who may use the information illicitly. Here are some of the ways that we ensure the protection of your confidential information in a way that also preserves environmental sustainability:
ISO accredited. Three international standards govern our organisation's operations. The first is the ISO 9001, which guides us on how to improve the quality of our services. We continuously look for ways to enhance our processes so that our customers are consistently satisfied.
We also comply with the occupational health and safety management system, ISO 45001, so that we're aligned with industry best practices to create a safe work environment and prevent work-related injuries.

We also adhere to the Privacy Act, which outlines who must comply with this legislation and what their obligations are. For example, government and officeholders as well as organisations that exceed a certain amount of turnover, hold health information, are contracted service providers for a Commonwealth contract, or are a credit reporting body fall under this law.
Added security. We have fitted all our vehicles with cameras and GPS tracking so that you can watch the shredding take place for complete peace of mind.
Environmentally friendly. Paper recycling is part of a closed-loop process: after the destruction of your documents, the shredded paper can convert into new products, such as toilet paper or paper towels.
We Work Around Your Requirements
DestroyR is an affordable and reliable paper shredding service for the South East Queensland & Northern NSW. Our team of dedicated professionals work around our customer's requirements for paper shredding at a great price.
When it comes to business security, we take it seriously. That's why we use the latest in secure shredding technology and processes to ensure that any sensitive information passing through our hands is completely protected from unauthorised viewing. We work with you to develop a customised plan that fits within your budget and makes sense for your home or business.
We're Reducing Our Environmental Impact
DestroyR's Closed Loop Recycling Process helps to reduce the environmental impact of producing and disposing of manufacturing materials. In a closed loop recycling system, the "waste" products created during the manufacturing process are either re-used or recycled to make new products. This type of recycling minimises air pollution, land pollution and water pollution that can be caused by conventional open loop production methods.