At DestroyR Secure Shredding, we understand the importance of secure document destruction in maintaining the privacy and confidentiality of your sensitive information. Whether you're a small business or a large corporation, our comprehensive and reliable document disposal solutions are designed to meet your specific needs.
WHAT DOES SECURE SHREDDING INVOLVE?
Businesses often accumulate a significant amount of documents over time, and secure shredding becomes essential to prevent potential data breaches. DestroyR's document destruction service offers a reliable solution that ensures the confidentiality of your sensitive information. Our process includes secure storage, GPS tracked transportation, and CCTV monitored shredding, all designed to eliminate the risk of security lapses.
Whether you opt for our On-Site shredding service or utilise our secure containers with monitored transportation and supervised shredding at our DestroyR facilities in Brisbane, your data is destroyed securely and efficiently. Our services comply with the Privacy Act, guaranteeing thorough and reliable sensitive information destruction. Need secure document disposal for your Australian company? Reach out to our expert team for a hassle-free experience tailored to your needs.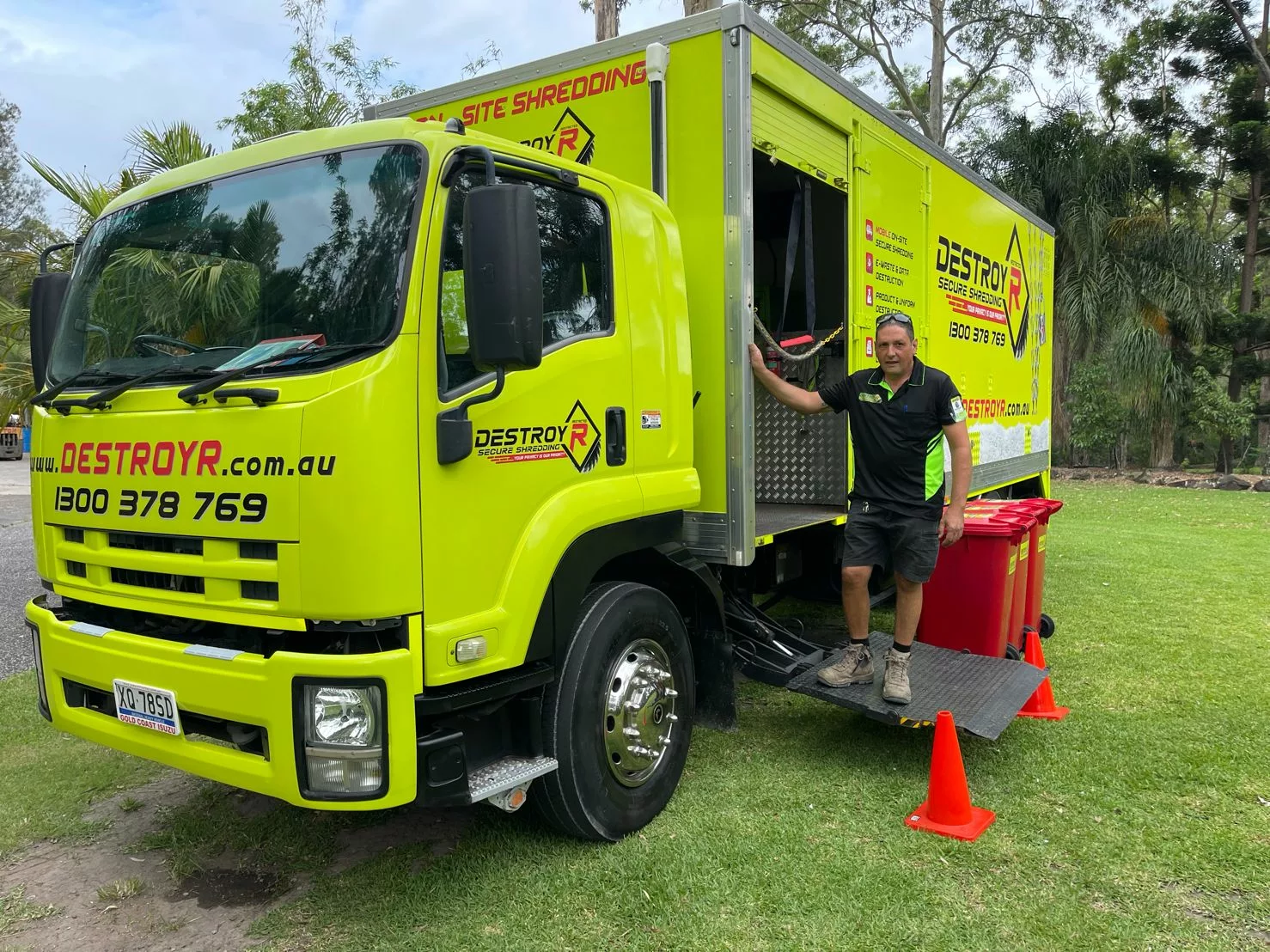 OUR SECURE CLOSED LOOP PROCESS
DestroyR secure paper shredding service stands out owing to our secure destruction and handling methodology. It extends:
A secure closed loop recycling procedure that is responsibly handled from collection to disposal.
Certified Destruction that is CCTV monitored for future reference.
Secure containers, confidential bags, and other necessities to aid the process efficiently.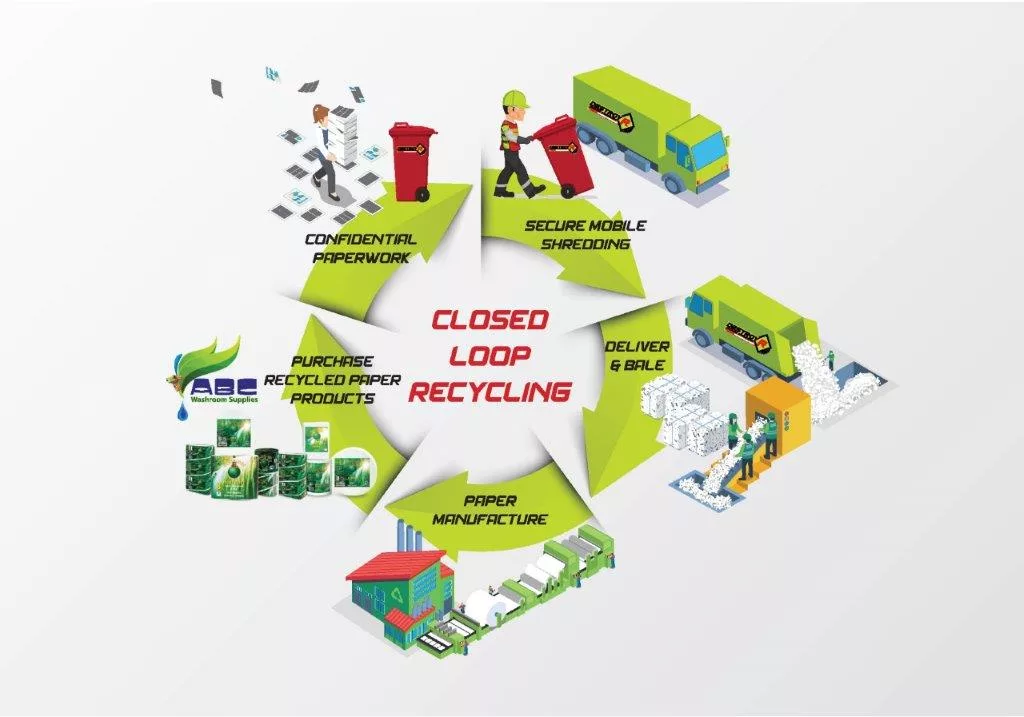 FOR YOUR PEACE OF MIND, ACCESS SECURE DOCUMENT DESTRUCTION
Are you a small business that deals with sensitive information, such as a law firm that has access to clients' personal documents? Perhaps you're a large corporation that needs to keep certain data, such as employee details, confidential.
We offer secure document destruction to companies that need to dispose of documents that have been piling up that they no longer need to retain for record-keeping purposes. When we're finished, you can work from an office space that is clear of unnecessary clutter.
In addition to mass shredding, we provide residential shredding services to securely dispose of your outdated documents so that you're not at risk of identity theft.
Protecting Data with ISO Accreditation
Our secure document shredding safeguards data for individuals and businesses, preventing it from falling into the wrong hands. Here's how we ensure data protection and environmental sustainability:
ISO Accreditation: Guided by three international standards, including ISO 9001, we constantly enhance our processes to ensure customer satisfaction and service quality.
Health and Safety: Complying with ISO 45001, we maintain a safe work environment and prevent work-related injuries, aligning with industry best practices.
Privacy Act Compliance: We adhere to the Privacy Act, which outlines obligations for various entities, ensuring data protection and privacy for government, officeholders, health information holders, contracted service providers, and credit reporting bodies.
Enhanced Security and Sustainability
Added Security: Our vehicles feature cameras and GPS tracking, allowing you to observe the shredding process for complete peace of mind.
Environmental Responsibility: Our closed-loop paper recycling process transforms shredded paper into new products, contributing to sustainability with items like toilet paper and paper towels.

WHAT YOUR COMPANY CAN DO TO SECURE IT'S PRIVACY
Protection of personal information is legally required by the government, and it's in a company's best interest to ensure that confidential customer information remains safe to establish trust and build relationships for repeat business. Here are some of the ways that you can give rightful care to the handling of your client's data:
Document and record management procedures. This documented process includes information about how your company distributes, files (or saves on the company's server), and stores documents, and who will have access to them. It also indicates roles and responsibilities and helps you plan for how your company disposes of obsolete documents.
Staff training. Management will have to train employees on the business's document procedures so that they know how your company processes sensitive information and the expectations when dealing with information from third parties.
Physically protect personal information. Where you need access to customer documents for an extended period, you will have to plan for how to store them and how you'll control access to them. Most companies keep hard and soft copies of documents as backups. To ensure the safety of hard copies, you can store them in a fireproof cabinet under lock and key. Lock down soft copies, saved on the server, so that only authorised persons have access to them.
Prepare for a privacy response plan. As an employer or manager responsible for the protection of personal information, you should prepare for what to do if confidential documents are missing. The first step is to contain the security breach and extend control measures—for example, locking the room where you keep the cabinet, or taking the server offline until the situation is resolved. After you've determined the cause of the breach, you'll need to notify the individuals involved and make the changes necessary to prevent the same incident from happening again in the future.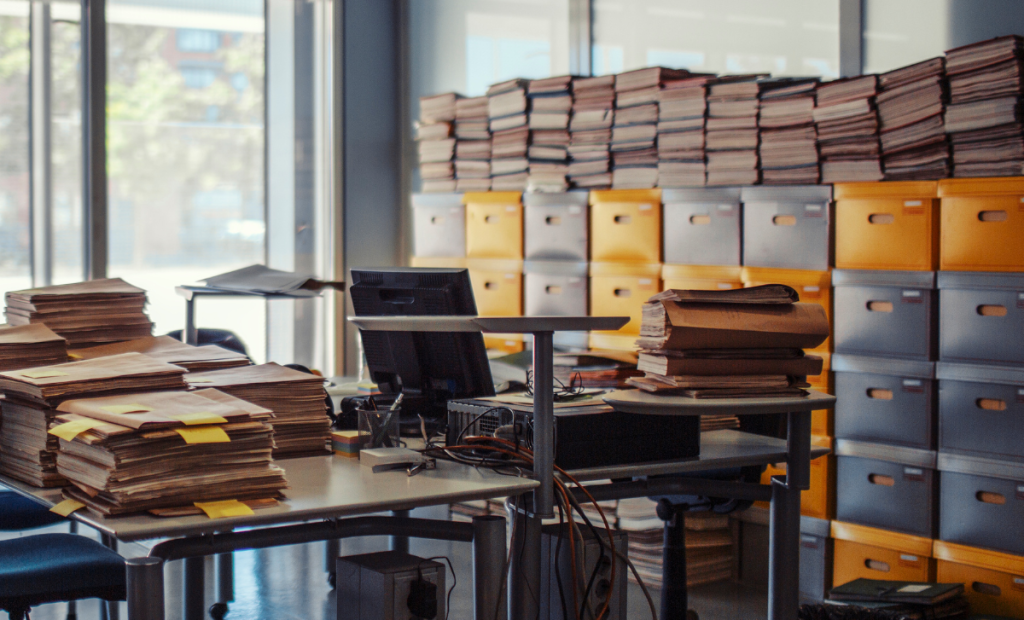 WHAT YOU CAN EXPECT FROM US REGARDING SECURE DOCUMENT DISPOSAL
Whether you're an educational institution or a hospital, we provide secure paper shredding so that learner or patient information doesn't get into the wrong hands. These are some of the paper shredding services that we offer our clients:
Onsite document shredding. We can arrange for a truck to arrive at your premises, where your bins can remain securely locked and supervised until shredding. Besides this option saving you time, you have the convenience of not having to remove staples or paper clips from your documents. Our top-of-the-range shredders work on lever arch files, archive boxes, diaries, and even hardcover books.
Shredding events. During these occasions, we provide bins and stations to organisations so that they can gather paper, CDs and other media that they want to securely throw away. Once you have collected these materials, we arrange for the collection of the bins and then transport them to a secure facility for confidential paper shredding.
Closed loop process. This system involves the collection of confidential paperwork followed by secure mobile shredding. We then create bales of the destroyed paperwork and deliver them to paper manufacturers that can recycle the paper.