Your Privacy Is Our Priority®
DestroyR are the premier provider of secure destruction solutions. Get your free quote now.
DestroyR's Secure Destruction Services are your shield against data breaches and information leaks. We take your data's security seriously, offering top-tier solutions that safeguard your confidential information. With cutting-edge technology and an unwavering commitment to privacy, we ensure your data is destroyed securely, protecting your business and your clients.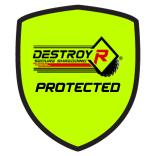 Providing Secure Shredding & Destruction Solutions
At DestroyR Secure Shredding, we're dedicated to providing exceptional customer service and personalised attention to every customer. Our focus on sustainability and reducing waste means that we offer secure shredding services that are efficient and eco-friendly. Whether you're an individual or a large corporation, we're committed to ensuring that your shredding needs are met with professionalism and care. Watch our video to learn more about our company and how we're changing the shredding industry for the better.
DestroyR offer three different service options on how regularly you would like to be serviced. 
Scheduled
Where the shredding and destruction process is on a regular cycle.
One-Off
When you only need secure shredding & destruction every once in a while.
On-Call
Where you contact us once you would like the container contents to be shredded.
Your One Stop Secure Shredding Provider
DestroyR Secure Shredding tailor each service to work around your requirements.
What Sets Apart?
Destroy Your

Documents With Confidence