If you're interested in shredding your paper documents then DestroyR can provide a one-off, onsite shredding service at an affordable price. Our services will be tailored to meet your needs. From small businesses to large enterprises, we have the perfect solution for you.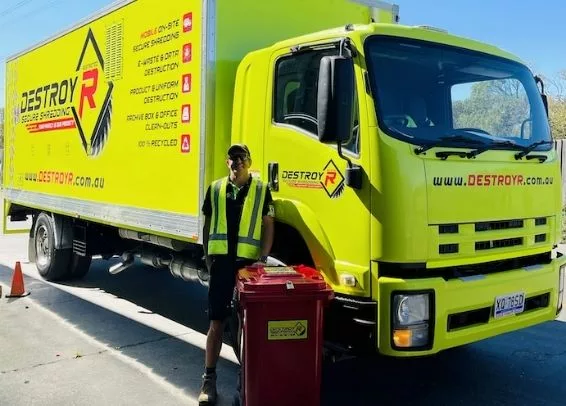 What is a one-off, onsite shredding service?
A one-off, onsite shredding service is where we arrive at your facility, destroy your confidential paperwork in our secure GPS tracked, onsite trucks and ensure that the contents can never be retrieved by anyone else. It is an excellent option for businesses with a large volume of paper documents or if you are moving into a new office and have to get rid of old paperwork. DestroyR has a team of dedicated employees who will take care of the entire process. We'll take your documents and then shred them in our secure facility, which is ISO 9001 certified. This means that we are confident that our paper shredding services will completely destroy the information on those papers so they cannot be retrieved. We'll make sure all of your documents are securely shredded. Once complete, you'll receive a certificate of destruction.
How does a one-off, onsite shredding service work?
Our range of services includes document shredding and document destruction, which can be done onsite or in one of our secure destruction facilities. We will also provide you with an audit trail to ensure that your documents are destroyed as they should be.
DestroyR has been providing cost-effective solutions and is a locally owned & operated business. If you're interested in learning more about our one-off, onsite service, please get in touch today! You can call us on 1300 378 769 or by completing our online form.
How much does a one-off, onsite shredding service cost?
A one-off, onsite shredding service depends on the amount of material you need destroyed. If you want to have all your paper documents shredded then please contact us and we'll give you a free quote for your requirements.
Onsite or Offsite shredding?
We provide our customers with the choice of either an onsite shredding service or our offsite shredding service.  For onsite shredding, our trucks can be driven to your location, where all of the sensitive materials are shredded securely onsite until the job is done. Onsite shredding can take around two hours, while offsite shredding can take up to three days for all the contents to be completely shredded.
If you're in a hurry, then an onsite service is the best option for you. If you need more time to do the job, then we offer offsite services that are more convenient and practical for your needs.
Regardless of the service you choose, you will receive a certificate of destruction, once the contents have been completely shredded and destroyed.
Our services are affordable, so don't hesitate to get in touch with us today!
Contact us today for a free quote by calling 1300 378 769 or by completing our online form.