At DestroyR Secure Shredding, our commitment to secure destruction extends beyond traditional paper shredding and electronic data destruction. We understand that every organisation and individual may have unique security requirements. That's why we offer a range of  Secure Destruction Services to address a variety of needs. Our comprehensive approach to security ensures that your sensitive information is protected, no matter the form it takes.
Our Range of Secure Destruction Services
1. Media Destruction
In today's digital age, sensitive information is stored on various forms of media, including CDs, DVDs, USB drives, and more. Our Media Destruction service ensures that these media types are rendered completely unreadable and irrecoverable, preventing data breaches and unauthorised access.
2. Product Destruction
Do you have outdated, defective, or unsellable products that need secure disposal? Our Product Destruction service is designed to handle the secure destruction of a wide range of items, from promotional materials to defective products, ensuring that they don't end up in the wrong hands or harm your brand's reputation.
3. Uniform Destruction
Maintaining the security of uniforms and employee identification materials is crucial, especially for organisations with strict security protocols. Our Uniform Destruction service ensures that uniforms, badges, and related items are securely destroyed to prevent misuse or impersonation.
4. E-Waste Recycling
Electronic waste, or e-waste, poses environmental and security risks when not properly disposed of. DestroyR offers E-Waste Recycling services, including the secure disposal of electronic devices like hard drives, smartphones, laptops, and more. We follow eco-friendly recycling practices to minimise environmental impact.
5. Plastic Recycling Collection Service
As part of our commitment to environmental sustainability, we offer a Plastic Recycling Collection Service. This service allows you to securely dispose of plastic waste while ensuring that it is recycled responsibly and transformed into new products as part of a closed-loop process.
6. Textiles Recycling Collection Service
Our Textiles Recycling Collection Service is designed for the secure disposal of textiles, including uniforms, clothing, and other fabric-based items. We ensure that textiles are recycled or disposed of securely in compliance with your organisation's policies.
Why Choose DestroyR's Secure Destruction Services?
Security and Compliance: DestroyR maintains the highest security and compliance standards, ensuring your sensitive materials are handled with the utmost care and confidentiality.

Customised Solutions: Our Secure Destruction Services are tailored to meet your specific needs. We work closely with you to understand your requirements and design a solution that fits seamlessly into your existing security protocols.

Environmental Responsibility: We prioritise sustainability in our services, promoting responsible recycling practices for materials like plastic, textiles, and e-waste.

Certified and Trusted: DestroyR is certified by industry leaders and trusted by organisations of all sizes. Our track record of excellence and reliability sets us apart as a secure destruction partner you can depend on.

Community-Focused: As a locally owned and operated business, we value community engagement and environmental stewardship. Our services reflect our commitment to both.
For secure destruction needs that go beyond paper shredding and electronic data destruction, turn to DestroyR Secure Shredding. Our Secure Destruction Services provide tailored solutions to protect your information, uphold your organisation's integrity, and contribute to a more sustainable future.
Contact DestroyR Secure Shredding today to discuss your unique secure destruction requirements and learn how our comprehensive services can benefit you.
DestroyR Offers More
A lot of companies offer shredding services, but their prices are too high. If you do manage to find a good price, the service they provide is mediocre at best.
Imagine getting more than just your documents shredded. Imagine having all the work done for you so that you don't have to worry about putting your documents in a bin or keeping track of what's been shredded and what hasn't.
With DestroyR Secure Shredding, we take care of everything for you! We can pick up your documents from anywhere, shred them on-site with our high security machines all destroyed. Enquire now.
We Work Around Your Requirements
DestroyR is an affordable and reliable paper shredding service for the South East Queensland & Northern NSW. Our team of dedicated professionals work around our customer's requirements for paper shredding at a great price.
When it comes to business security, we take it seriously. That's why we use the latest in secure shredding technology and processes to ensure that any sensitive information passing through our hands is completely protected from unauthorised viewing. We work with you to develop a customised plan that fits within your budget and makes sense for your home or business.
Call or email us today to learn more about our services!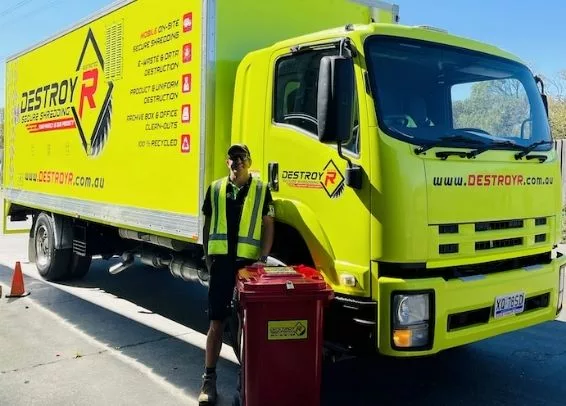 NAID AAA Certified
DestroyR Secure Shredding is NAID AAA Certified to ensure complete destruction and protection of your sensitive data.