The convenience of having a bin delivered to your door is just one of the many benefits of hiring the services of DestroyR. We have bins for all your needs and provide a friendly, professional service at affordable rates that make it easy for you to dispose of all your unwanted items. We also offer bins for confidential paperwork, confidential data, and confidential financial records.
The shredding bins & containers we offer
We offer bins for all types of disposal needs. Our most popular is our paper shredding bin, which comes in a range of sizes (120L, 240L, 660L & Console).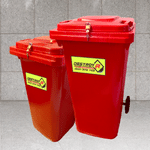 120L Container
480mm wide
480mm deep
930mm tall
Weight: 8.2kg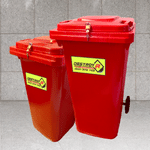 240L Container
585mm wide
660mm deep
1060mm tall
Weight: 15.5kg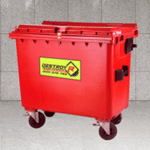 660L Container
1340mm wide
860mm deep
1135mm tall
Weight: 50kg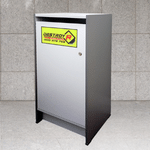 Office Console
550mm wide
400mm deep
840mm tall
Weight: 21kg
Bin Label Example
An Example of the labels featured on DestroyR Containers. They are different depending on the requirements of the customer. Important features of our labels include: warning the user what is allowed to be placed into the container, the product type and other key information.
Our shredding bin range for hire
When you choose a DestroyR Secure Container, you also receive the following benefits:
All containers include a DestroyR padlock and cannot be opened without authorisation.
A slot is available at the top of each container, to make it easy to securely contain the sensitive materials until they are ready to be shredded.
Instructions are labelled on every container, showing permitted items for shredding.
Our wide range of container offerings makes it the perfect option to tailor the shredding bins across your business.
Bins can be hired from only $2 per week (free period available when choosing our secure destruction services).
When the bins need to be shredded, we'll swap the bin with a clean bin.
If there are any issues that arise with the bins, our nationally police checked maintenance team will arrive onsite and repair the issue.
Secure shredding available on demand
One of the most important aspects of our service is that we provide secure shredding services on demand. If you're looking to destroy confidential documents, confidential data or confidential financial records, you can hire us to do it for you. This means that as soon as you're ready for your containers to be collected, DestroyR will take them away, securely shred and destroy the materials. You'll receive a certificate of destruction once the process has been completed.
Contact us today for a free quote by calling 1300 378 769 or by completing our online form.